TgScanRobot Service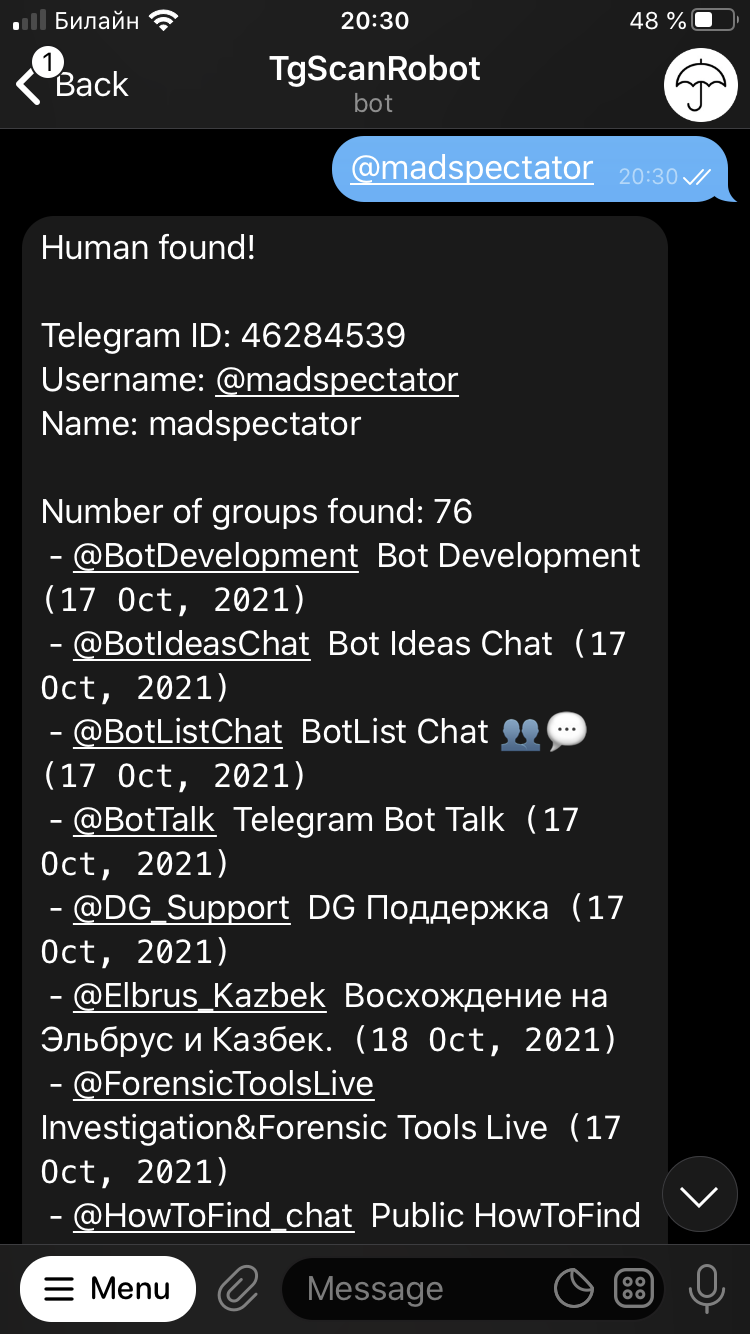 TgScanRobot service is a tool that allows you to find which telegram groups a person is member of. Each group is annotated with a recent date when TgScanRobot has seen the user in this group.
The current way of interacting with the TgScanRobot service is submitting search requests to @TgScanRobot Telegram Bot.
To use TgScanRobot service you have to buy so called credits first. Each request to TgScanRobot service consumes a number of credits:
Search result has no data: 0 credits
The basic profile info found, no groups found: 1 credit
The basic profile info found, at least 1 group found: 10 credits
The price of 1 credit is 0.01 USD (0.55 RUB)
Support
Please send your questions and feedback to Telegram groups:
Receive news about the project by subscribing to news channel:
To submit confidential information you can use support@tgdev.io mailbox.
Database updates
Date
Groups
Users
Members
03 Jul 2022 15:00
2.6M

+43

453M

+2.6K

5334M

+62K

03 Jul 2022 09:00
2.6M

+479

453M

+28K

5334M

+611K

03 Jul 2022 03:00
2.6M

+907

453M

+35K

5333M

+719K

02 Jul 2022 21:00
2.6M

+558

453M

+32K

5332M

+673K

02 Jul 2022 15:00
2.6M

+722

453M

+62K

5332M

+908K

02 Jul 2022 09:00
2.6M

+848

453M

+49K

5331M

+1.1M

02 Jul 2022 03:00
2.6M

+11K

453M

+649K

5329M

+15M

01 Jul 2022 21:00
2.6M

+59

453M

+288K

5314M

+5.4M

01 Jul 2022 15:00
2.6M

+37

452M

+264K

5309M

+3.7M

01 Jul 2022 09:00
2.6M

+21

452M

+172K

5305M

+2.6M

01 Jul 2022 03:00
2.6M

+17

452M

+101K

5302M

+1.7M

30 Jun 2022 21:00
2.6M
452M
5301M
time: 2022-07-05T01:01:26.044359+00:00